How Threat Intelligence is Used to Reduce an Organization's Risk Profile? Free Webinar Sep 1
How Threat Intelligence is Used to Reduce an Organization's Risk Profile?
EC Council University and CISO Mag has organized a Cyber Talk – webinar with me , and we are looking forward to see you in our webinar
When : September 1 , 2021
Registration : Click here 
Time : 4 PM CET
7:30 PM IST
12: 00 AM AEST (Sydney)
To register for more Free Events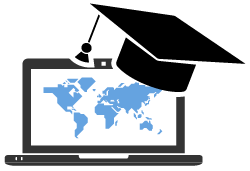 About EC Council University
EC-Council University (Cybersecurity University)  is dedicated to creating superior educational programs that equip graduates to face the latest IT security risks and lead their colleagues in strategically handling those challenges. EC-Council University builds on the recognition and strengths of its parent corporation, The International Council of Electronic Commerce Consultants (also known as EC-Council), a globally recognized IT certification body specializing in Information Assurance and e-business.
Founded in 2003 by the Former School President, Mr. Sanjay Bavisi, EC-Council University (ECCU) is headquartered in Albuquerque, New Mexico.
Albuquerque is a charming community nestled in the Sandia Mountains. Full of diverse culture and rich traditions, it is in the heart of the Southwestern United States, with a population of nearly 1 million people.
EC-Council University was incorporated in Wyoming and licensed by the New Mexico Higher Education Department in 2006. The institution was created to educate and train information security professionals. Information security involves in-depth knowledge of a wide array of hardware and software systems, as well as the skills and techniques to negotiate them.
EC-Council, the parent company of EC-Council University, is a world leader in certifying professionals in these skills and techniques. However, EC-Council University President Sanjay Bavisi believes that information security professionals must not only have skills and techniques, but they must be educated to step into leadership and managerial roles in their companies, agencies, and organizations. This belief led to the establishment of the Master of Science in Cybersecurity program and the Bachelor of Science in Cybersecurity program.
About CISO Mag
CISO MAG attempts to provide unbiased and useful information to the professionals working to secure critical sectors. The information security magazine includes news, comprehensive analysis, cutting-edge features, and contributions from thought leaders, that are nothing like the ordinary.
CISO MAG is the publication for every stakeholder of safe Internet. If you are looking to keep abreast of the latest happenings in information security and are curious to know how security leaders are battling out of their skins to keep Internet safe, we assure you that you won't be disappointed.
Why we do what we do?
Well, the threats we foresee in cyber world are not expected to cease and one can only expect to uncover more calculated attacks on a wider scale. Therefore, there is a continuous need to provide unbiased and useful information to the professionals working in this critical sector. To provide the cybersecurity experts key information and analysis to tackle the security challenges, EC-Council created CISO MAG, an information security magazine for best practices, trends, and news.
We are a passionate bunch of people who love to give voice to information. We research intense, write with credibility and bring to you the information every security leader needs to know.
And we don't want you to just believe it because we say it, we want you to discover it yourself. Check out our magazine that has already reached 5000+ readers globally within its first year of launch.