Hacker Halted Atlanta (2015)
Hacker Halted Atlanta
I am proud to announce that i have been invited to speak this year at Hacker Halted again.
Being one of the notable speakers , we are looking forward to see you , this time in Atlanta
About Hacker Halted
The Hacker Halted USA event organized by the professional organization EC-Council (yes, the same organization that developed the Certified Ethical Hacker course that is now renowned in our industry) is held once a year and, as usual for this kind of conference, it brings together technical experts in the field of information security as well as a business audience. The choice of Atlanta was no coincidence: the climate suits sun worshippers, while the heat during the day deters you from leaving the hotel, and is possibly an additional "motivation" for some to listen to the presentations.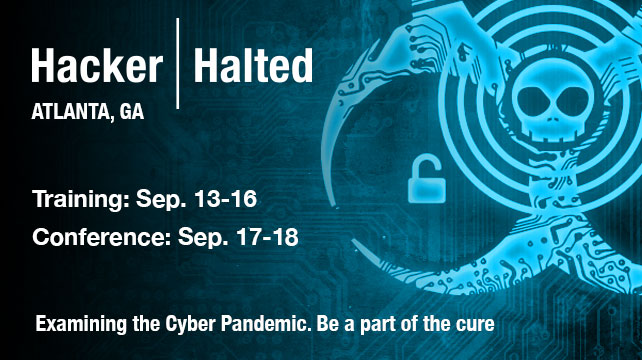 The main theme of the conference, which was touched on in one way or another in the speakers' reports, was "The Cyber Pandemic" – associating technological imperfections with a kind of plague sweeping our society. And, as you can probably guess, the speakers had to analyze the details of this social "disease" and come up with a "vaccine".
At Hacker Halted USA 2015 there was nothing to distract participants from the main content, such as separate rooms for fans of CTF or hack quests, and no workshops. On the one hand, it allowed the attendees to concentrate on the presentations and take in more information; on the other hand, it may have got a little tedious for those who like hacking things. The audience at the conference, in our subjective opinion and after chatting with other participants, appeared to be weighted more towards business. Proof of this came at a separate section with the companies' stands. But, having said that, there was also a dedicated section for aficionados of "hardcore" presentations.
The exhibition highlighted a lot of start-ups and small companies from the IT security industry that are almost unknown in the Russian market and which focus on a narrow niche. Some might find it unsurprising, but if you draw a parallel with the typical Russian IT security exhibition, where every stand belongs to a real industry heavyweight, the information security market in the United States resembles more of a supermarket with a huge range of goods and services.
For more Free Events