Superhero CISO Award by Enterprise IT World 2020
Superhero CISO Award to Dr Erdal Ozkaya by Enterprise IT World
I am proud to announce that I have won the " CISO SUPERHERO AWARD " by  Enterprise IT World.
Thank you
Dr Erdal Ozkaya
For more info : https://www.enterpriseitworld.com/100-ict-leaders-in-mea-awarded-at-covid-19-superhero-technology-summit-awards-mea/
My Awards : https://www.erdalozkaya.com/category/about-erdal-ozkaya/awards/
The awardees were finalized on the basis of their nominations and vetted by a committee of domain experts under the leadership of the Chief Editor
Enterprise IT World, the leading CXO media house in APJ in association with QNA Marcom, the leading marketing acceleration company in MEA, concluded the historic Technology event called Covid-19 Superhero Technology Summit & Awards MEA on 18th July.
Covid-19, Superhero Summit & Awards MEA was organized after the successful event of Covid-19 Superhero CIO/CISO Global.
Spanned across more than three hours, the event was attended by more than 250 senior ICT leaders from 10 countries across the Middle East and Africa regions, Far East and India.
The event featured reach content around Artificial Intelligence, Intelligent Automation, Data Mining, New Normal, WFH, Technology refresh, revisiting IT strategy, Cloud Computing, Zero Trust Security, Community cloud, HCI, Backup, Application management, Data Centre, and colocation, etc.
Senior ICT leaders of the region deliberated on the above areas on a precise manner and expressed their strategy and possibilities.
The speakers who participated in the discussion included
Hisham Mohamed, Chief Information Security Officer, Emirates NBD,
Dr. Erdal Ozkaya, Regional CISO, Standard Charted Bank,
Tran Viet Hoan, CIO & Vice President of IT, Thaco Group, Vietnam,
Ebrahim Kamalzadeh, Head of IT, Al Nabooda Automobiles,
Aliasgar Bohari, Director – IT, Zulekha Hospitals LLC.,
Anshul Srivastava, CIO, Emirates Post,
Damodaran Raman, CTIO, Bayan Payments Limited, Saudi Arabia,
Khaldun Al Khaldi, Banking Technology Infrastructure and Security enthusiast,
Piyush Kumar Chowhan, Group Chief Information Officer, LuLu Group International,
Shafique R Ibrahim, Chief Digital Information Officer (CDIO), Al Fardan Exchange LLC
Jaleel Rahiman, IT Director, Prime Healthcare Group,
Nawaf Mohammed Abdulrahman, Head, Information Technology,
Mohamed bin Khalifa bin Salman Al Khalifa Specialist Cardiac Centre
Samir Chopra, CEO, RNS Technology Services and
Samir Parekh, CEO ThinkSense.
The star attraction of the event was Covid-19 Superhero Awards MEA, where more than 100 leaders were awarded for their exemplary works and projects during Covid-19 Lockdown period. These awardees were finalized on the basis of their nominations and vetted by a committee of domain experts under the leadership of the Chief Editor, Sanjay Mohapatra.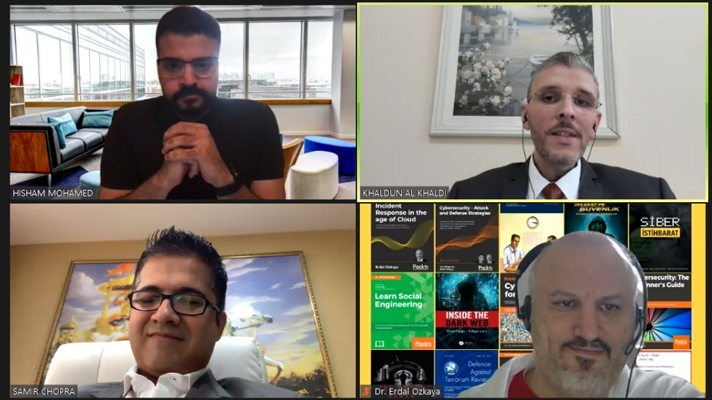 Besides, there were awards for successful IT projects implementations, OEMs/ Vendors, Partners/ Sis/ distributors. Similar process was followed before finalising the awardees and special care was taken to review their works during the lockdown.
Sanjay Mohapatra, Group Editor, Accent Info Media Publications and Chairperson Award Committee, said, "Our objective is to bring out innovation and excellence in the ICT fraternity. I am happy that senior IT leaders demonstrated their capabilities and skill of innovation and excellence during the lockdown and became Unsung Heroes of Covid-19.
The OEMs and the ecosystem partners also took equal interest in this endeavour and nominated their strategic initiatives during the pandemic. I congratulate all the winners and wish them good luck for their future."
"I am extremely happy and thankful to all the senior IT leaders who responded and understood the importance of this event and supported without any hesitation. Their high-level content during the panel discussions became a benchmark for this event and inspiration to many of the attendees," he added.
Finally, the entire event was support by various brands in various capacities. Those brands included CtrlS, Cloud4C, Veeam, F5, Citrix, Nutanix, Mindware, RNS Technologies, Exclusive Networks and Mindware.
100 + ICT Leaders In MEA Awarded at Covid-19, Superhero Technology Summit & Awards MEA